Mike and I had tacos last night for dinner!! They were sooooo good.... with lots of sour cream and tons of olives. Yumm! I know the last picture isn't the prettiest but Mike and I don't like to mess around too much with vegetables when it comes to hard tacos. It's just so hard to fit all that goodness into that little shell! We prefer to just skip to the yummy parts and leave the veggies for the soft tacos. :)
I knew I couldn't just show off what I had for dinner.... so I figured why not see what I could find taco-related in the handmade world! Check out these items -- they are AWESOME!
I am in LOVE with this
pin
! They saying is so simple and true. There will be tacos. :)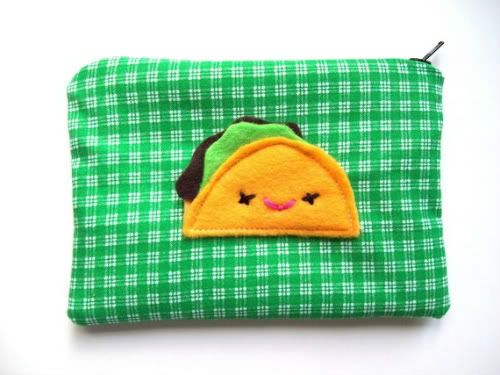 Okay, this
pouch
is irresistible. I love the green pattern and that taco couldn't be much cuter.
I am really digging this
print
. It is so colorful and the words make it so unique!
How can you resist that face?!!! This
pillow
makes me smile... the hat, the 'stache, those eyes!
So what do you think of these items? All I can say is putting this post together almost makes me want to eat them again.... leftovers, anyone?
xoxo