Ready....
Set.......
GO!!!
I think this baby is finally ready to take off. I have been tossing the idea of a blog around in my head for quite some time now and I'm quite happy to say that I'm ready to take the plunge. First posts are always be a bit awkward and a little on the weird side (kind of like a first date, huh?) so please bear with me!
I figured the best way to kick things off would be with some pictures and introductions! So here we go...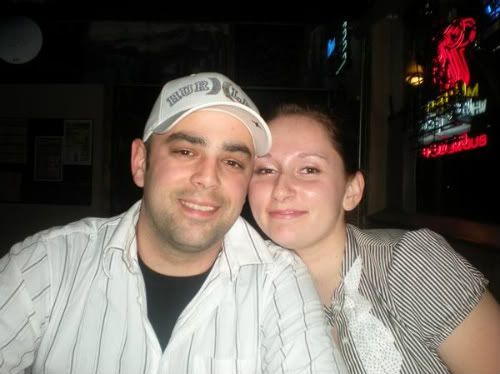 My wonderful fiance Mike and myself of course! This picture is about two years old but man aren't we an adorable couple. :) I could go on and on about where we met, how magical it was and how we knew right from the get-go we would be forever together but.... I'll spare you the gory details and babble about that in another post someday.
Mike is in the Coast Guard and we are currently stationed in Sturgeon Bay, Wisconsin. It's an adorable little town and a definite change from Seattle, where we were almost a year ago. I work from home and most of the time can be found doing something artsy whether it be taking pictures, painting or sketching or managing my little business:
SOAP
! I'm pretty much obsessed with all things color and try to pour as much of it into everything I do.
Jinx! My partner in crime and favorite kitty on the planet. He is a bit of a snooty-pants but I tend to love him anyway. Got this little one off a farm almost a year ago and we are practically inseparable...
This is Yama. He is the newest addition to the family. He is a Great Pyrenees and Mike and I got him from a family not even three days ago! He is such a sweet and lovable dog. Only seven months old, he is already 60 pounds! Crazy, I know... he is going to be a big boy.
And that's it! Just the four of us living the military life in Sturgeon Bay, Wisconsin. Wouldn't have it any other way.

H9MB7H9V38XF